I ended up staying longer than intended in Port Villa. Jan & Richard were on their way back from Santo here so I waited an extra couple of days to see them again. Then the weather turned bad and it rained just about non-stop for 3 days. When eventually the rain stopped it was very windy with a strong wind warning out and very rough seas and big waves. So although this was frustrating as I wanted to be on my  way, it was better to be here tied to a big strong mooring in a sheltered place than out at anchor somewhere. I could pass the time wandering through the town.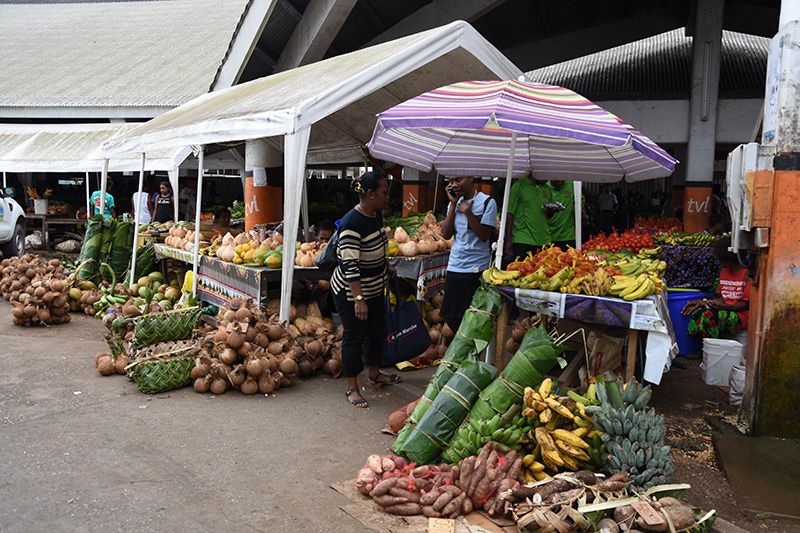 One day it dawned fair and although it was still quite windy the strong wind warning had gone. I had originally meant to hop up to Havanna harbour in the north of the island but a rhinoceros beetle scare was on and the whole area had been declared a no go zone.
In this case it was about 80 miles up to Epi, so another night passage was on the cards. I left the mooring in the late afternoon, giving myself a few daylight hours to clear out of Mele bay and get around Devils point which has a reputation for rough seas.
It was still windy with the wind at the top end of the forecast level of 15 -20 knots and the seas fairly rough and rolly. I settled for a triple reefed main and the staysail and was still making 5 knots.
It turned out to be a long sleepless night largely on account of other traffic. Just before dusk a yacht past going south. Later the first boat approaching from my stern I was able to resolve as would pass my stern and pass on my port side some way off.
The second set of light seemed to be going not that much faster than me and was always seemed to be in the same place astern. Boats around here don't seem to have AIS, that most valuable tool I couldn't relax. Hours later it was much closer, its navigation lights hidden by the blaze of 2 great spotlights and it seemed to be heading straight for me. I took the unusual step for me of trying to call them up on channel 16 vhf but could get no response. Maybe they had heard me though as they seemed to change course slightly went past my stern and passed me on my port side. I was quite relieved. I was kept on my toes by more lights ahead, another boat this time going south and passed some way off and I spotted a yachts tricolour some way off. seemed a busy old night so I prudently decided to forgo my usual naps at night.
Dawn revealed Epi ahead and the Shepherd islands way off to the east. One had the perfect volcano cone profile and I wished I was passing it closer. Off the SE corner of Epi there are some submarine volcanoes, quite active apparently, probably not wise to go that way!
The seas were calmer once in the lee of the island and before too long I was lining up the boat to go into Revolieu bay to drop the hook and catch up on a little sleep after a passage of 87 miles and 18 hours.