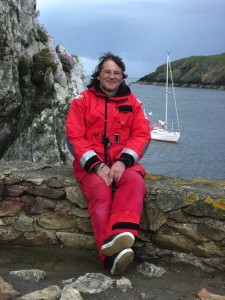 I learnt to sail in dinghies, on local lakes. I then cruised with my sailing mentor, Don for 3 glorious weeks on the West Coast of Scotland. At the end of that summer we sailed Don's Jeannau Sun Legend back from Scotland to North Wales. So hooked had I become by the end of this that nothing else would suffice but my own boat. So it came to be that I became owner and skipper of "Dansa" and the process of becoming a sailor began.
At times it was a steep learning curve, but learn I did. Soon I was cruising farther and farther afield  and I circumnavigated  Ireland in 2004. Some of my cruises are undertaken solo, other with friends. Some of these adventures I have put on Dansa's site
Dansa is now sold and Sea Bear has taken her place.
Before sailing I sent most of my time climbing and as a fully qualified mountain guide I have climbed and trekked in many parts of the world. You could say that adventure and travelling is in my blood.
You can find my mountain climbing site at Mountain Adventures
To get in contact use the contact form