After a day to rest and relax at Revolieu I set off for Lamen Bay just 13 miles up the coast. There was a strong wind warning out but reasoned in the lee of the island things would be manageable. As often in the lee the winds were very variable and gusty and it seemed to take forever to round Cape Foreland, perhaps the current was against me. As I neared Lamen Bay the wind really piped up and I had a head wind of about 25 knots. There were about 7 boats anchored here but fortunately  anchoring went well, it can be tricky in very strong winds and I dropped the hook in 9m and the holding was good in white sand.
Next day the forecast was not looking good 30 knot winds were predicted for the next few days so I moved a little closer inshore to anchor in 6m, reasoning it would be a trifle more sheltered. Shane & Hannah in a NZ cat "Beachlands" offered & helped me in this as sometime is strong winds it is difficult to maintain control raising the anchor whilst single handed.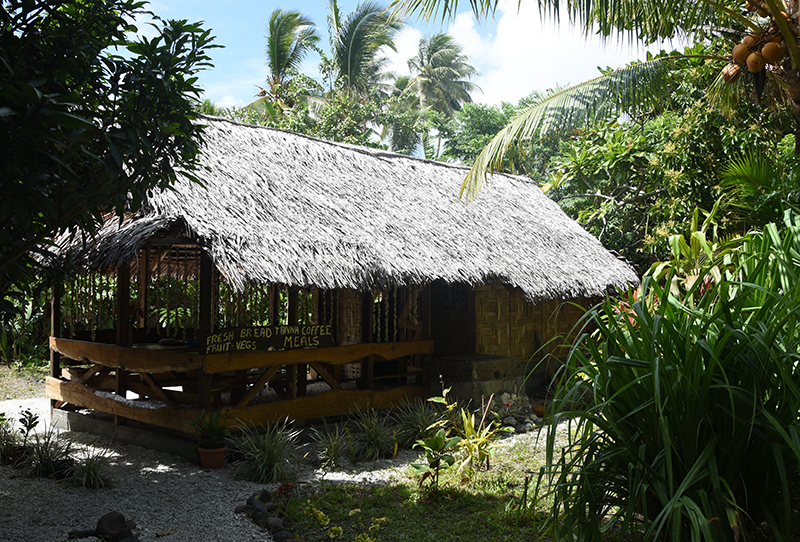 "Beachlands" took me ashore for coffee at a lovely little spot next morning as I hadn't yet inflated my dinghy with the winds so strong but I did later and I took a walk along the beach past the village and airstrip and through the conservation zone right up to the NW point of the island. Apparently turtles lay eggs on the beaches in the conservation zone. I had seen lots of turtles swimming about in the bay, but unfortunately didn't spot any dugongs for which the bay is famous.
One evening I was invited for dinner aboard "Beachlands" with Shane, Hannah & Allanha. Had a nice curry and drinks, a very convivial eve.
We also had a meal at "Benintoes", the wife of the chief at her lovely little restaurant all decorated with strings of sea shells. We had previously spent some time collecting shells on the beach with her to add to her strings.
After some day the winds eased and all the boats bar me and the French couple I had first met in Anatom, cleared out. I though I would wait a day to give the seas, which had been forecast for 3m swells, more chance to calm down.
I went for a longish walk inland past another village up a very steep hill and then a little south, nice views in parts and very interesting. I planned to leave the next day after picking up some bread that eve baked by Beni for me.